Using AAX / AU / VST plugin
ConnectionOpen is available as several types of audio plugin, (AAX, AU and VST standards) compatible with many popular Desktop Audio Workstation programs (DAWs). This means you can get the power and flexibility of ConnectionOpen, right inside the mixing/editing software of your choice.
The plugin versions of ConnectionOpen are installed at the same time as the client application, to environment paths/locations specified by your operating system, depending on the default location for each file type, if set.
The plugin window interface is almost identical to the standalone client application, with just a few subtle differences.
Using the correct audio settings
When ConnectionOpen is hosted as a plugin it does not control the audio settings because all the audio settings are controlled by the host. Therefore, it is important that the DAW audio settings match the requirements for ConnectionOpen to work correctly as stated before under Setup and Configuration section of the user guide.
ConnectionOpen requires that the sample rate is set to 48 KHz and that the buffer size is set to 128 samples. In order to accomplish this, you need to set your DAW to work with this settings.
The plugin will give you a visual warning if this conditions are not met as seen in the following picture:
Note: GarageBand does not allow to set a custom sample rate and buffer size, therefore, ConnectionOpen cannot be used along with GarageBand.
Note: ConnectionOpen plugin can detect the DAW sample rate at any time. However, depending on the DAW it might not be able to detect the buffer size unless the track is armed for recording or track is being monitered. This is the case of Avid Pro Tools.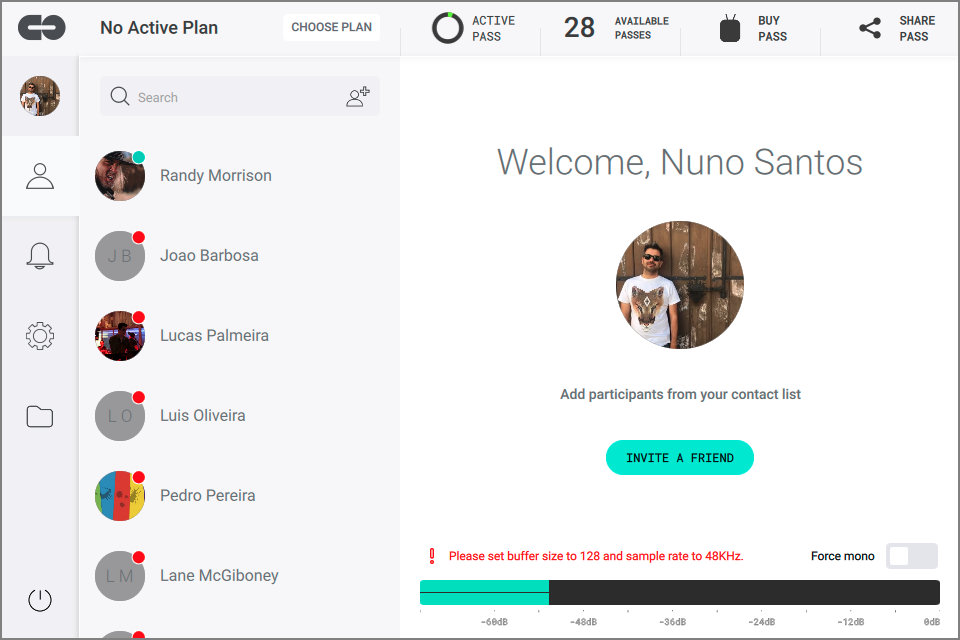 When sample rate is set to 48 KHz and buffer size is 128 samples, the visual warning will go away, just like in the following picture:

Mono/Stereo input
ConnectionOpen is by default stereo plugin in order to avoid having two versions of the same plugin, one mono and one stereo. For this reason, if you instantiate the plugin on a mono track, you will have two channels with the same information and you will be streaming in stereo. If this is not you want, use the force mono button to ensure that you only use one of the channels.
Note: The AAX plugin version allows the plugin to be mono or stereo, depending on the track you use the plugin. The force mono option is unnecessary in this case since it will assume correctly the channels layout.
Using ConnectionOpen with Pro Tools
Note: the version used in this video is already outdated but the basic principles are the same
Using ConnectionOpen with Ableton Live
Note: the version used in this video is already outdated but the basic principles are the same